First time here? Here are all the best ways to get involved in the English-speaking Ringing Cedars community and follow the work of the Anastasia Foundation.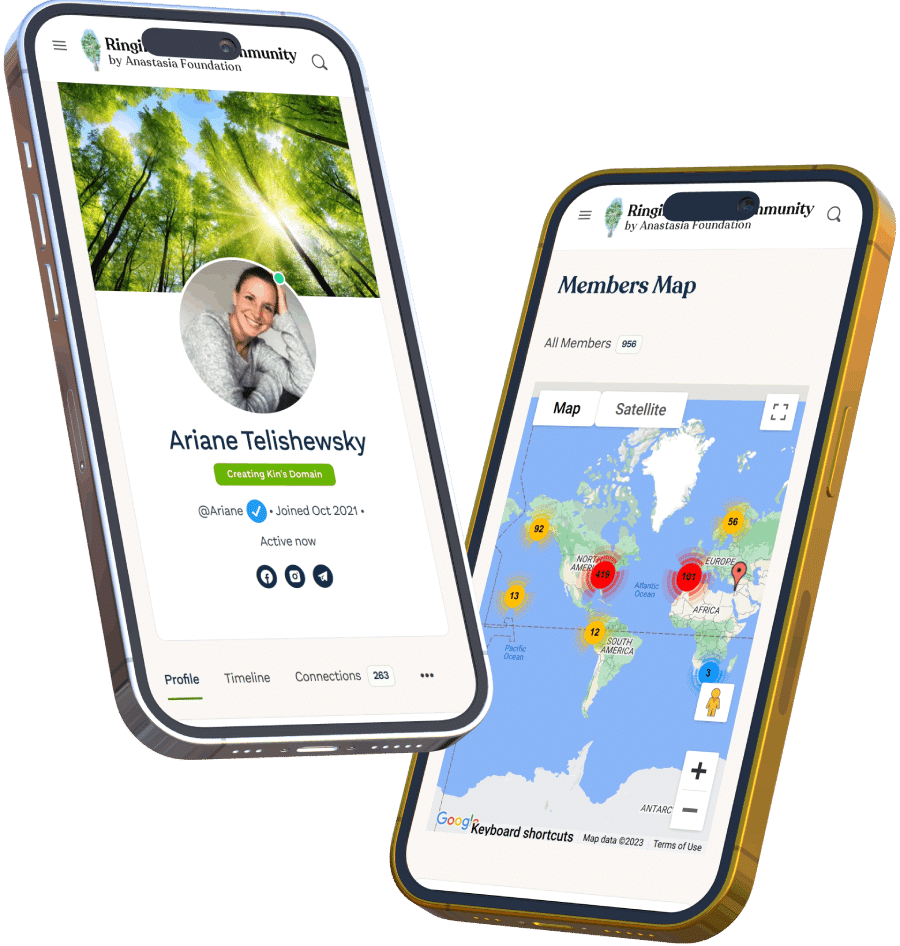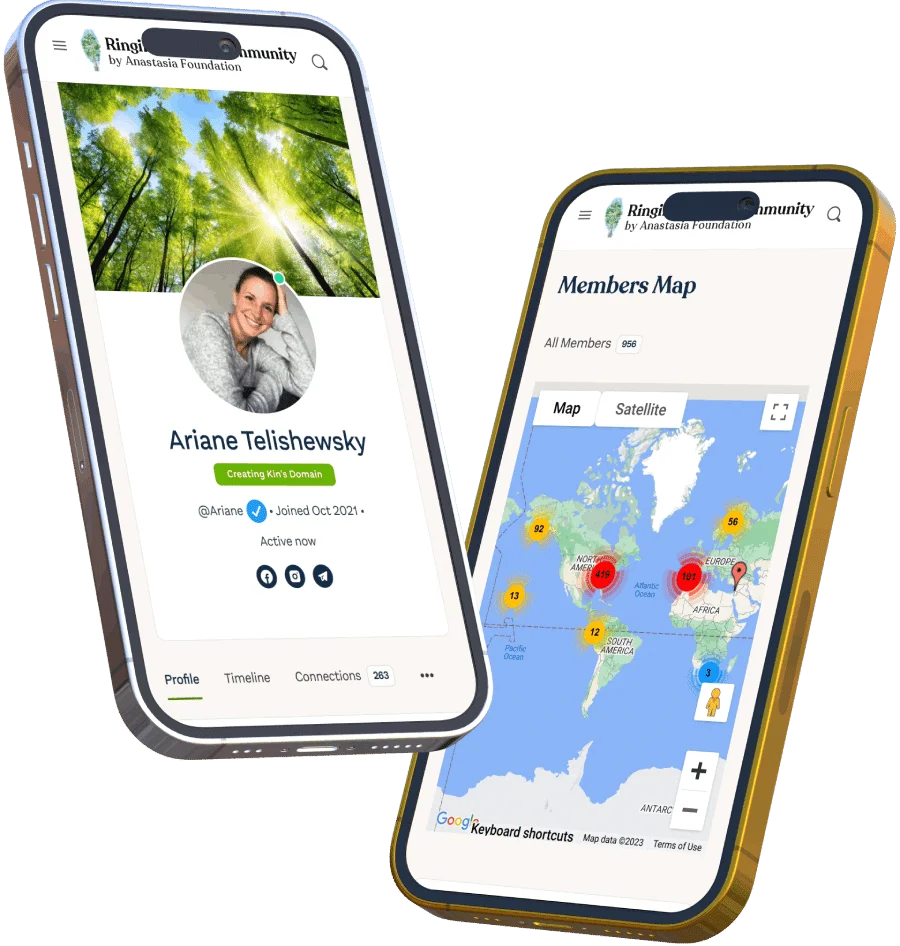 NOTRE PROPRE RÉSEAU SOCIAL
Plateforme communautaire Ringing Cedars
Discover a community of like-minded individuals who share a passion for the Ringing Cedars of Russia books. Join our community and make new friends, meet your soulmate, and participate in discussions and events.
🔍 Find other readers in your area through our searchable members directory and members map
💡 Join or create groups on all Ringing Cedars-related subjects
🌎 Be a part of regional and local reader groups
💬 Connect with other members through instant private messaging and audio and video calls
📖 Participate in engaging forum discussions
📱 Connect with readers anytime, anywhere with our mobile-friendly community
Join our community and start meeting other readers now!
Des centaines de membres de partout en Amérique du Nord, en Europe et plus encore! Croissance rapide ! Le plus grand réseau anglophone Ringing Cedars.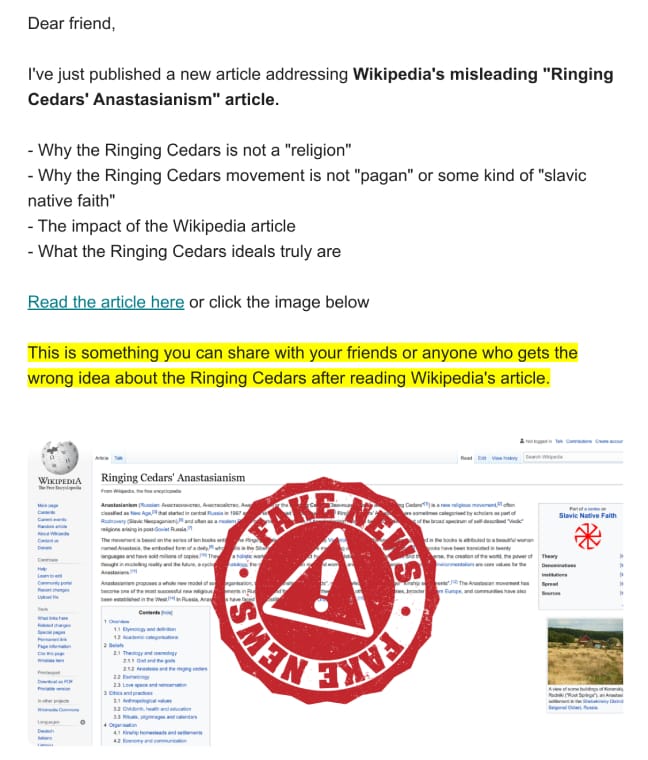 Abonnez-vous à notre liste de diffusion
Inscrivez-vous sur la liste de diffusion pour recevoir toutes les nouvelles de Ringing Cedars, en savoir plus sur les rassemblements et les événements des lecteurs, les nouveaux domaines Kin, des vidéos, des articles et plus encore. We produce a bi-weekly newsletter detailing all the activities of the Foundation, it's a great resource!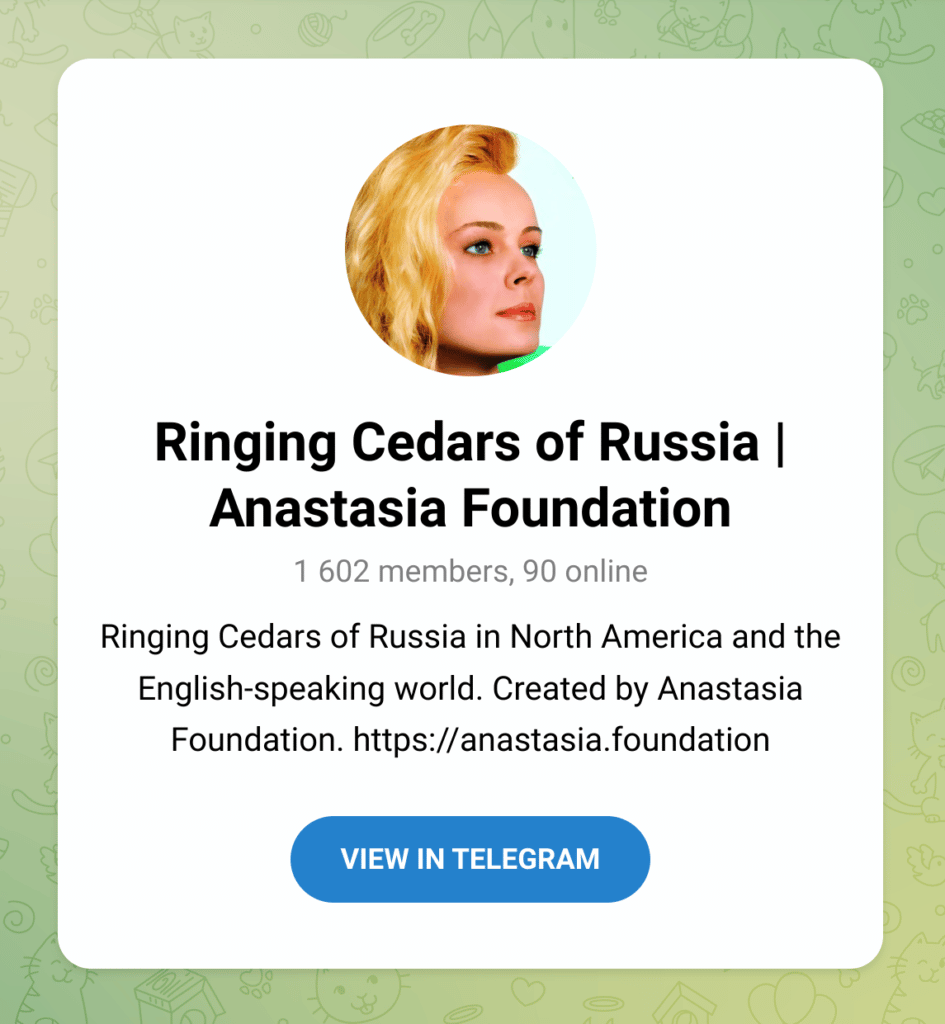 Rejoignez notre chat Telegram
Meet and connect with other readers from all over the world. We have a LARGE international network of regional Telegram groups, and community-run groups on all kinds of Ringing Cedars-related subjects.
Highly active group, and the largest Ringing Cedars Telegram chat in the world. An incredibly loving, supportive, and knowledgeable community!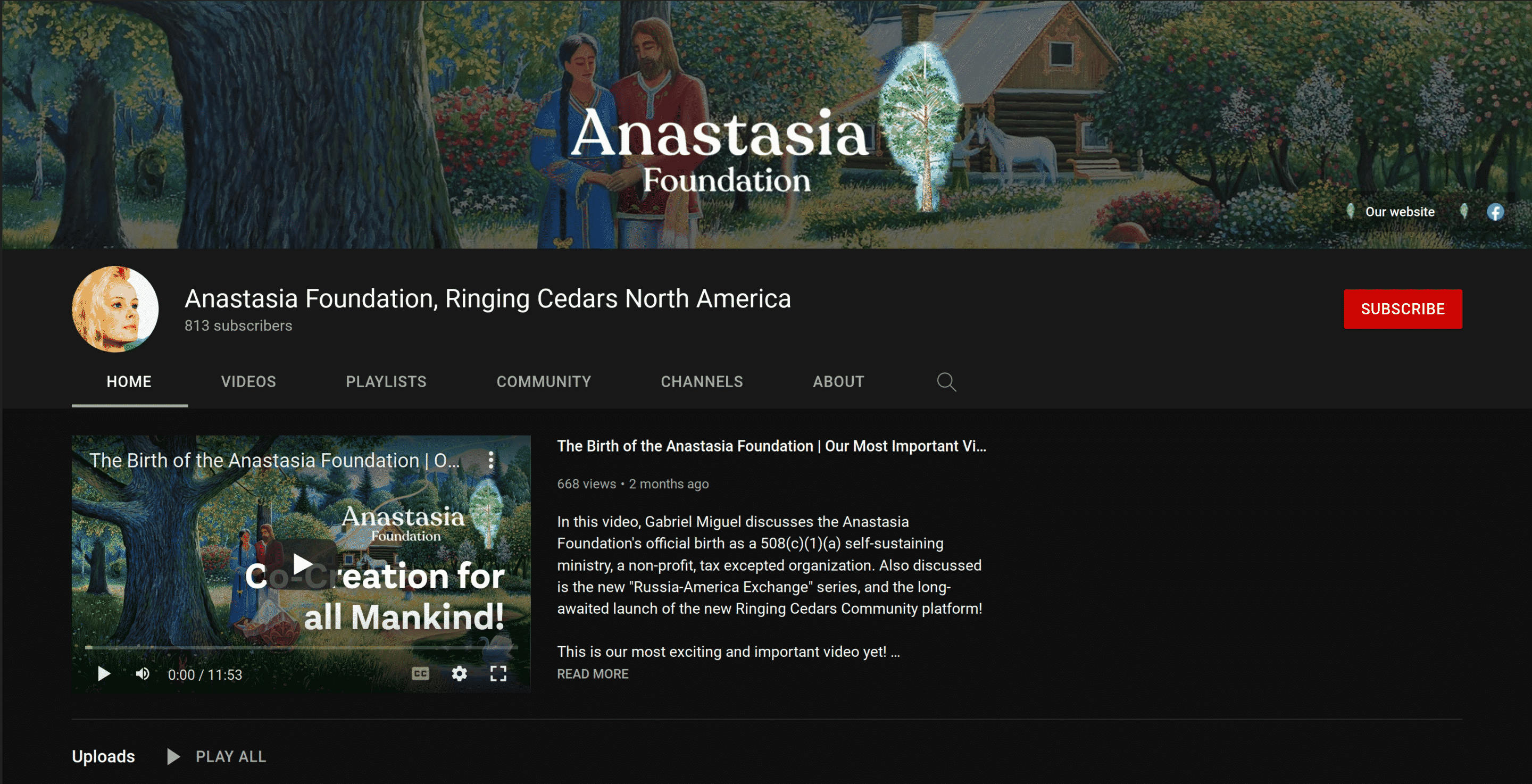 Abonnez-vous à notre chaîne YouTube
Abonnez-vous à notre chaîne YouTube pour des mises à jour vidéo hebdomadaires. Les enregistrements de tous nos appels communautaires, interviews et appels d'échange Russie-Amérique peuvent être trouvés ici.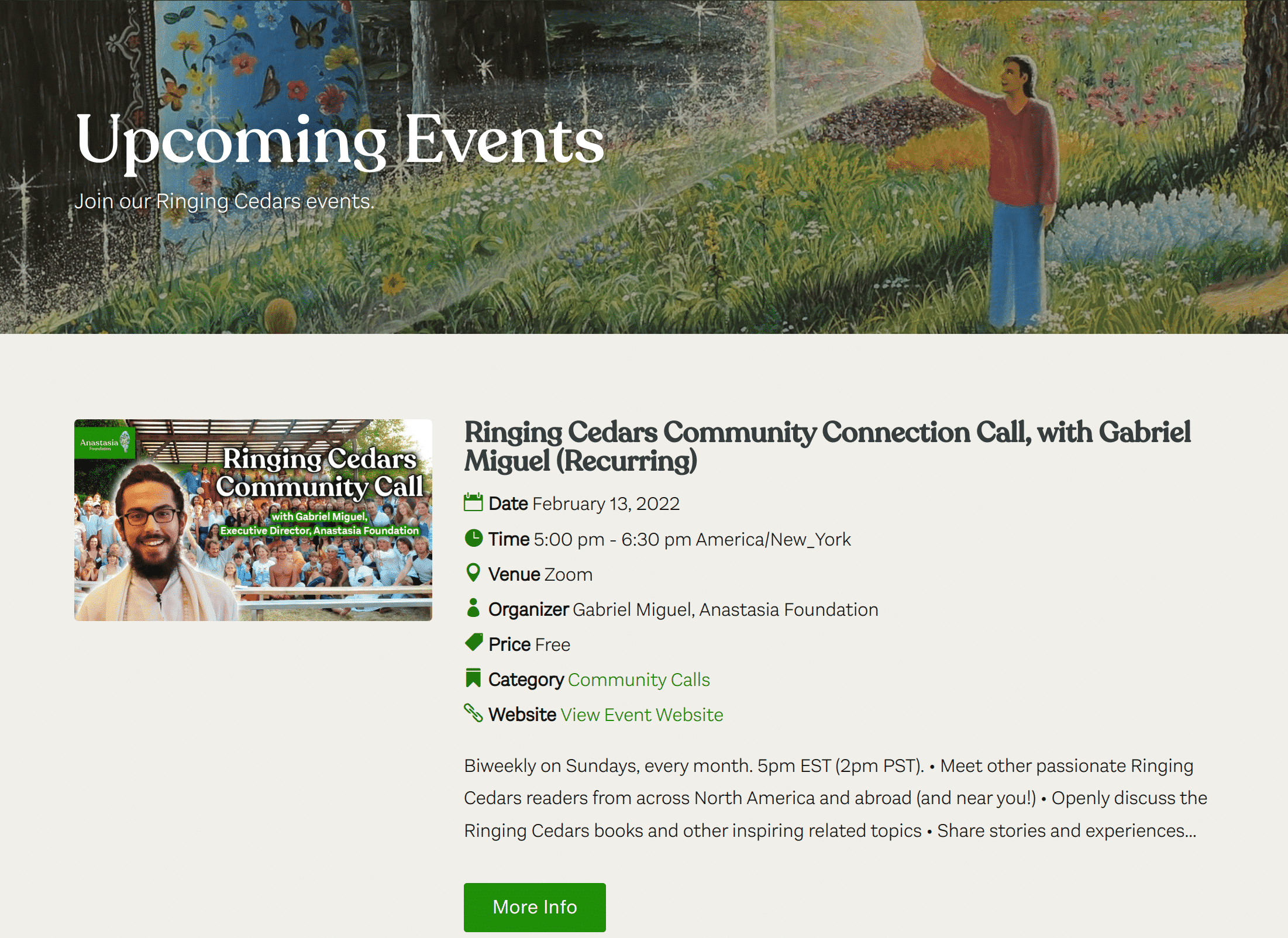 Join Our Ringing Cedars Events
We have many online and in-person Ringing Cedars Community events every week. View our events page to see our recurring and one-time events.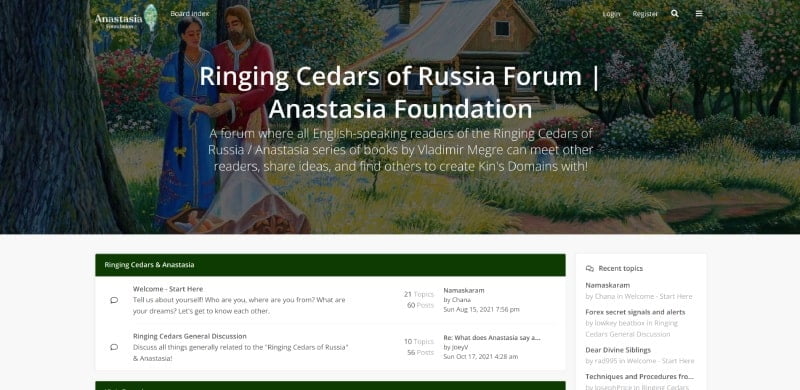 Join Our Ringing Cedars Discussion Forum
The only English language forum dedicated to the Ringing Cedars of Russia books. Great, organized, long form discussion.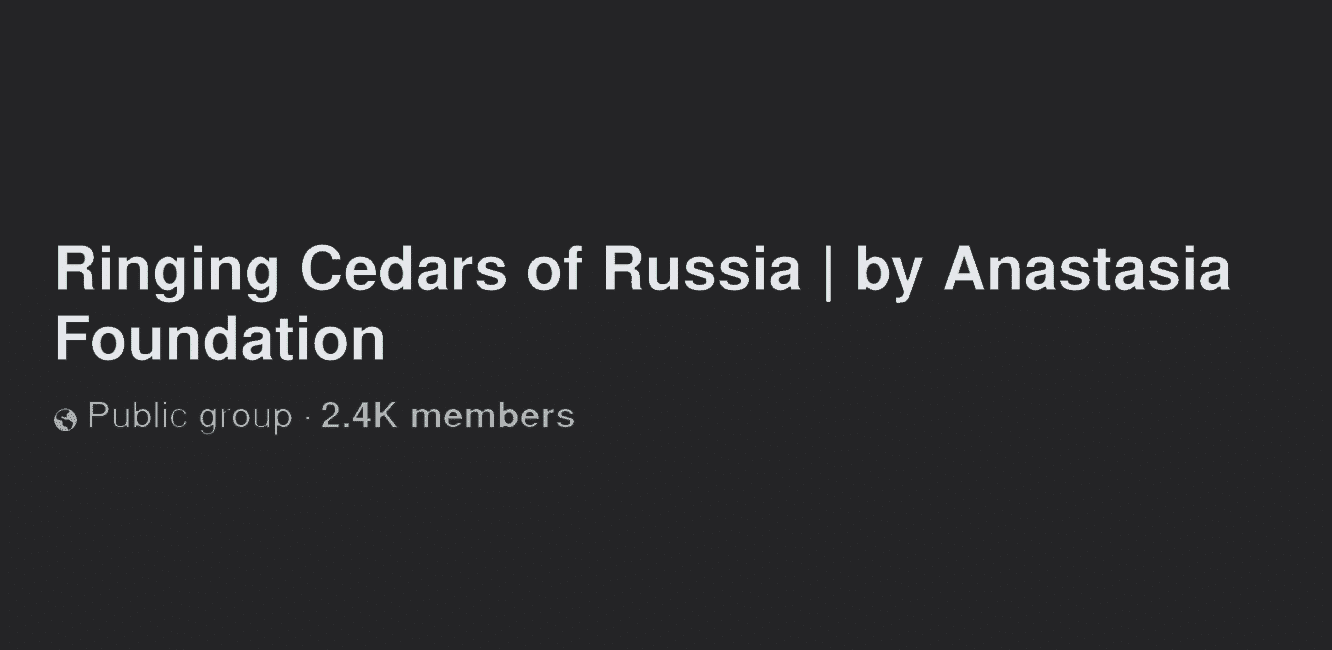 Rejoignez notre groupe Facebook
Le plus grand groupe Facebook anglophone de Ringing Cedars. Rencontrez, connectez et discutez avec d'autres lecteurs de partout en Amérique du Nord et à l'étranger.
3,800+ members. Very active and engaged group, great posts every day.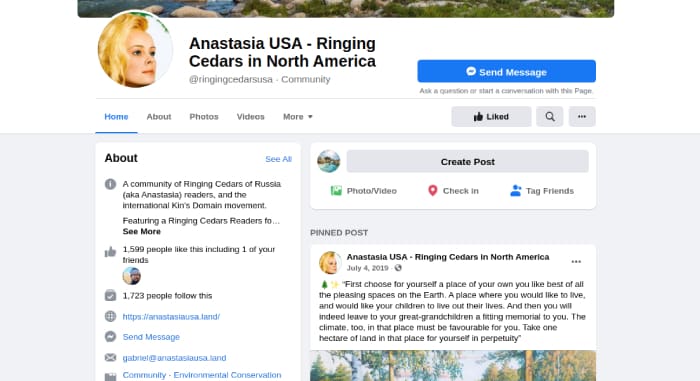 Suivez notre page Facebook
Suivez-nous sur Facebook pour les nouvelles et les mises à jour.
Inscrivez-vous à notre liste de diffusion