users icon
Largest English-speaking Ringing Cedars Community
users icon
Content, Resources, & Events
users icon
Largest English-speaking Ringing Cedars Community
users icon
Content, Resources, & Events
There are millions of Ringing Cedars of Russia readers across the English-speaking world.
The problem is, they don't know each other.
We're creating a vibrant in-person and online community to connect all Ringing Cedars readers, help people meet their soulmates and future neighbors, and facilitate the creation of Kin's Domains across the world.
NOTRE PROPRE RÉSEAU SOCIAL
Communauté Ringing Cedars
Connectez-vous avec d'autres lecteurs Ringing Cedars of Russia proches et lointains. Rencontrez votre âme sœur. Se faire de nouveaux amis. Créez et rejoignez des groupes, organisez des rencontres locales, rejoignez des discussions, et plus encore. Rejoignez notre communauté!
– Searchable members directory
– Readers groups on all subjects, and regional groups
– Private messaging
– Forum discussions
– Basically, Facebook for Ringing Cedars readers!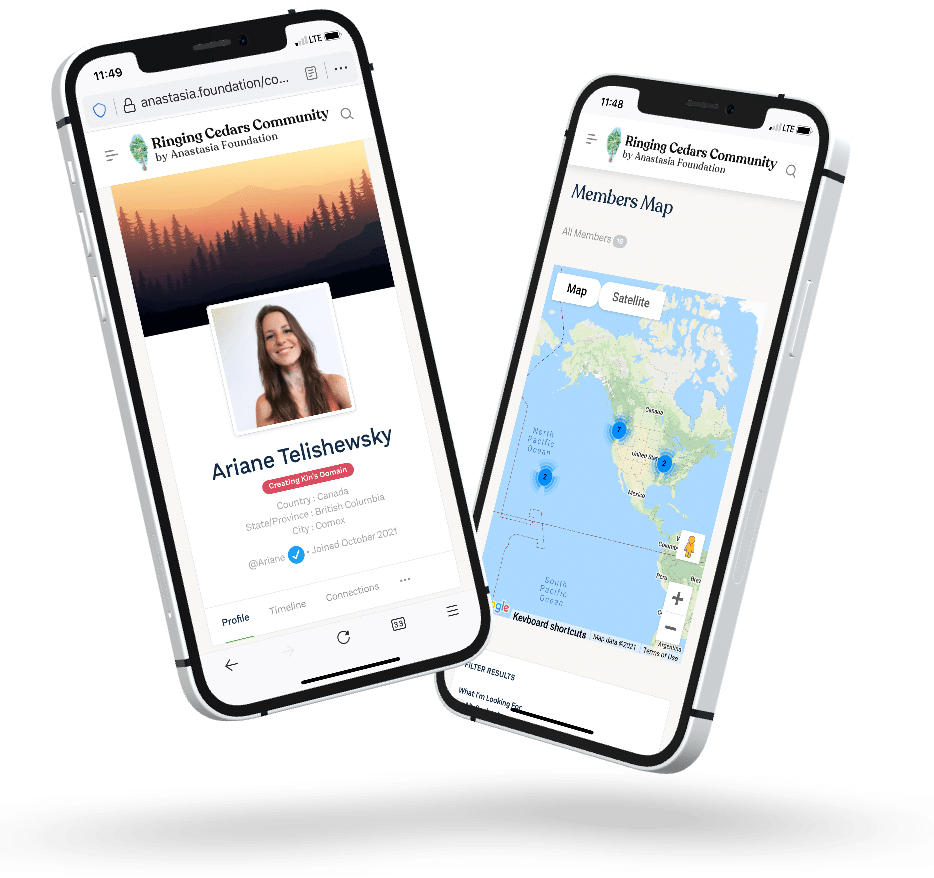 Groupe Facebook
Our healthy and active 3,700+ member Facebook group with Ringing Cedars readers from all over North America and the English-speaking world. A great place for discussion with others!
Telegram Chat
Meet and connect with other Ringing Cedars readers outside of Facebook. Largest RC Telegam, supportive and highly active group. Amazing discussion every day!
Upcoming Ringing Cedars Events
Once a month on Sunday (mid-month) readers gather live around the world in different time zones, connecting at the exact same moment for a united global imagery. Together we imagine the world pure, pristine, thriving and peaceful for all life everywhere. We hold t...
Anastasia Foundation Blog
Gabriel Miguel
Written by Wyatt Gober Dear Friends, I am certain that many of you know what profound effects these books are capable of producing within a living individual; inspiring them on a new path of life....
KIN'S DOMAIN STORIES, POETRY, ART, MUSIC
Submit Your Ringing Cedars Content
Do you have Ringing Cedars content you want to share with the world?
Send us your Kin's Domain story (life on your Domain), your Ringing Cedars inspired poetry, music and art!
We will share it with our audience via our blog and other channels, which is the largest English-speaking Ringing Cedars community in the world!
*All content is subject to review and is not guaranteed to be posted after submission.
The "Ringing Cedars of Russia" Books
In "The Ringing Cedars of Russia" series by Vladimir Megre, Anastasia explains the way to lead the happiest life possible here on the Earth.
Anastasia shares world-changing insights on the purpose of mankind's existence, child raising, and restoring the world to a pristine flourishing garden. She shows how we can preserve Love in our families forever. The purity and power of her words will inspire your soul, and ignite a joy deep within you, that will inspire you to change your life as millions of others have after reading the Ringing Cedars books. The books touch deeply on every topic of life, and are an incredible and thrilling read. The idea of Kin's Domains was first presented by Anastasia in the Ringing Cedars series.
The Ringing Cedars books have sold more than 30+ million copies worldwide and have been published in 20+ languages.
CREATING PARADISE ON EARTH
A Kin's Domain is a 2.5 acre piece of Earth where a family creates a living Paradise garden home for themselves and their (future) children, to pass on in perpetuity. Your Kin's Domain is your connection to God and the Universe, and the Space of your family for generations to come.
"Let each one of us take a small plot of his land [one hectare], pull his whole mind and whole spirituality together and create a very small but concrete Paradise. He will transform his little piece of land on our large planet into a flourishing garden, giving a material embodiment to his spirituality, following God's example.

"If millions of people do this in a whole lot of countries, then the whole Earth will become a flourishing garden.

"A father and mother who are actually creating a Space of Love for their children are more spiritual than the most celebrated wise men who only talk about spirituality. Let the spirit of each Man spring up from the ground as a beautiful flower, a tree with fragrant fruit, and let this take place on every single hectare of our planet.

— Vladimir Megre