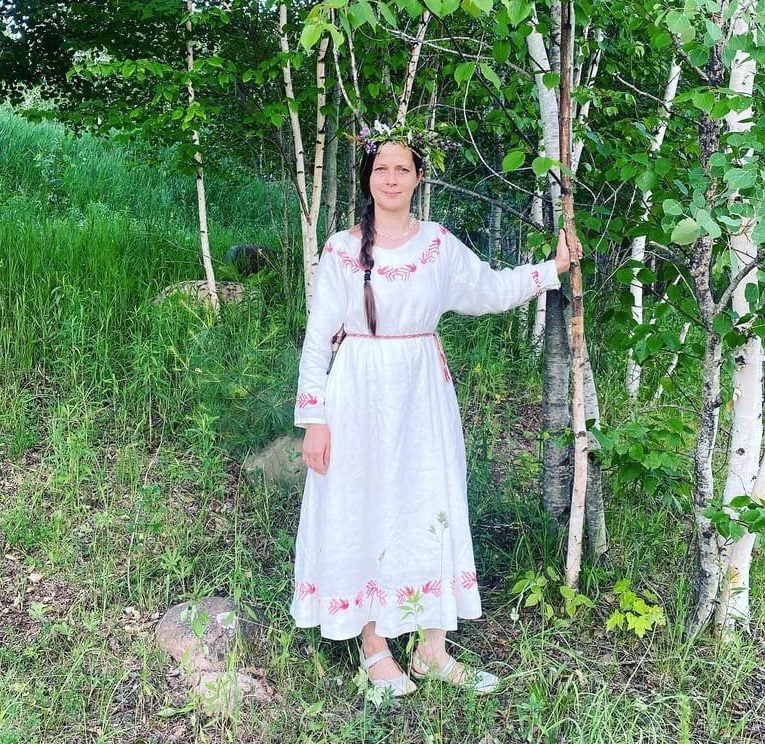 ~ Share Your Story
Sitting in my backyard listening to the sounds of summer birds, I had the pleasure of hearing a bit of Yulia's story. Vivid images of her history, present, and future dreams filled my consciousness & left me inspired to attend both of her retreats. I am excited to have her and her family as a part of our community.
Wife, Mother, Thoughtful Dress Maker, Unique Retreat Host, Kin's Domain Steward and so much more! | Story Written By Yulia.
Yulia has been living in the USA for 21 years.
She and her husband, George, have had sustainability and ecological living in their minds since they met, and now they are getting closer to their vision.
They currently live in an off-the-grid, solar-powered cabin in the middle of the forest, which they heat with wood. They grow gardens full of vegetables, fruit trees, berry bushes, and grapes. Yulia cans and preserves the harvest. In the past, they had goats from which they enjoyed milk and homemade yogurt with ice cream. They also had pigs and meat birds, but to have more freedom and time, they reduced their animals to laying hens only. They enjoy heating up a sauna and running barefoot in the snow ❄️.
In addition to homeschooling their two boys (16 and 13), Yulia runs a natural skincare business where she makes herbal creams, toothpaste, soaps, lip balms, and other beauty and safe home-cleaning products. She gathers many of the herbs in the wild, grows some of them herself, and makes her products from scratch, using only natural ingredients. She also offers custom-blend teas and herbal formulas, utilizing her full collection of organic loose-leaf teas.
During the summer, she sets up as a vendor at the local farmers market, where she enjoys meeting people, engaging in conversations, and offering health and beauty advice. Her online store can be found at https://www.yulias.net/.
Yulia and George's sons are growing up helping with everything. Their older boy already has professional-level construction skills and works with George full-time. Both sons enjoy mountain biking, fishing, swimming, cooking, snowboarding, downhill skiing & soccer — they even built themselves a system of bike trails behind their house, and two cute cabins, where they like to hang out with their friends.
In 2020, following traditional Slavic principles of energy saving and protective clothing, Yulia started sewing her own clothes by hand. Now, if she wants a new dress, she chooses to make it herself using natural fabrics. She also makes linen shirts for her boys. It is usually possible to cut and sew a dress in as little as two days, all done by hand without a machine!
Yulia teaches various workshops and offers custom consultations on health, natural living, herbs, and mushrooms. She also gives lectures on natural birth preparation, nutrition, options, and physiology. She is a certified BirthWorks pregnancy and birth educator and had her boys at home in the water with licensed midwives. You can book a session online at: https://www.yulias.net/birthworks/
Her weekend women's workshops, where she invites interesting speakers, are offered twice a year. For these workshops, she rents a spacious cabin that can accommodate 10-12 people. The cabin is equipped with a fully stocked kitchen, complete with bed linens, four full baths, and a laundry room.
The Fall 2023 weekend workshop (coming up at the end of October) is focused on health. It will include topics such as medicinal leeches, discussions on traditional Slavic abdominal massage for self and family care, instruction and cooking of Costa Rican foods, Latin dance, and a four-color personal growth workshop. Participants will have the opportunity to create a charm object based on Russian traditions—a doll filled with different grains (representing qualities like prosperity and health), herbs, and coins. This doll will serve as a protective charm for their family and home throughout the next year. There will also be a guest speaker who will discuss common law and the current legal situation, including a session on how to handle emergency room medical bills. The speaker, Oxana, has firsthand experience in successfully dealing with these matters within her own family.
Furthermore, there will be a massage therapist available on-site!
The Spring 2024 workshop (typically held in middle or late March) usually revolves around crafting. Yulia plans to dedicate the next workshop to handmaking linen dresses and block printing colorfast designs on the fabric.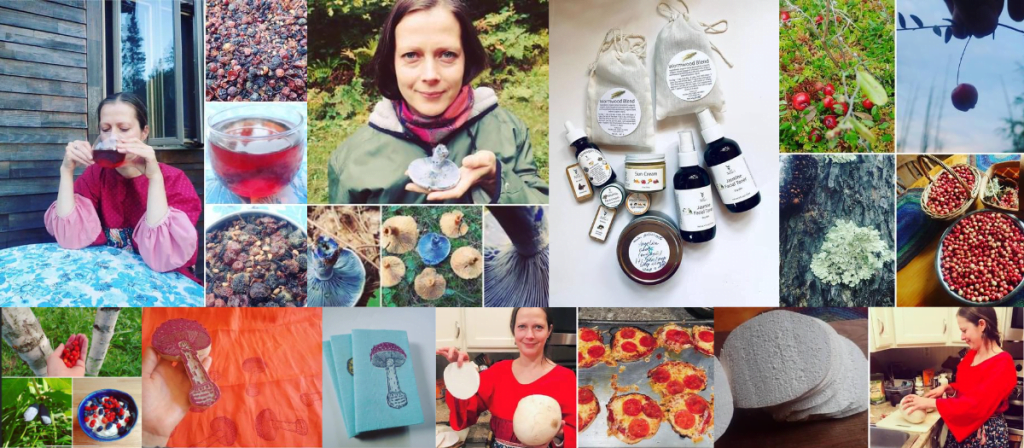 All the information can be found on her website. If you click on her green hummingbird logo, it will bring you to the main catalog page. Scroll down to see all the offerings. Make sure you check out her blog.
~ Thank you for reading about my story!
Story Compiled by Elizabeth Erkel, Community Outreach Coordinator